LIT Resistol's Major Deal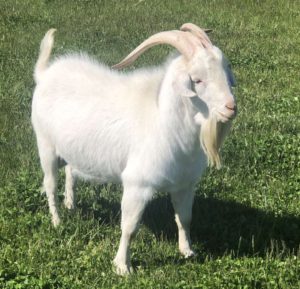 Resistol's Major Deal is a solid white AKGA Registered 100% New Zealand Purebred Kiko Buck. He is sired by one of the most highly respected performance tested bucks in the Kiko breed, TBR Resistol. Major Deal was the #2 ADG buck in our 2021 on-farm performance testing program, finishing the test with an impressive 0.72 lb ADG. From top to bottom, Major Deal's pedigree is absolutely packed with performance proven best of breed bucks.
TBR RESITOL – When it comes to structure, parasite resistance and outstanding performance tested genetics, Resistol stands at the head of the pack. Just check out these achievements and highlights:
Resistol was 3rd lowest FEC and 7th overall in the highly competitive 2015 Maryland Buck Test.
Resistol was the Top Selling Buck at the 2016 Bluegrass Performance Invitational (BPI) Sale in Kentucky.
Resistol sired the #1 and #2 Top Performing Champion Bucks at the 2018 West Virginia Buck test.
Resistol is sired by GAL BROWSER FS891, the 2012 Eastern Oklahoma Buck Test Overall Champion.
Resistol's brother (TBR BUGFREE) was the 2016 Maryland Buck Test FEC Champ and #3 overall.
Another brother of Resistol (TBR UNO) was the 2015 Maryland Buck Test #1 FEC Champ and 6th overall.
Resistol's maternal grandsire (RAK AUSTIN'S BOY) was an outstandingly structured buck who was grandsire to numerous top ten overall finishers in the Maryland Buck Test and others.
Resistol's paternal grandsire (MGR TITAN'S HAMMER) was the long-time performance test ADG champion from 2004 to 2014 with an on-test ADG of .63lbs per day. That record was previously held by Hammer's own sire (AKR LIGHTIN'S TITAN N06)!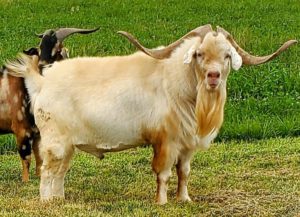 GAL BROWSER FS891 – 2012 Eastern Oklahoma buck test winner. Gal Browser progeny have performed exceptionally well in performance tests, including 2 ranked most parasite resistant and 2 more ranked 3rd most parasite resistant in their trials. Other recognitions have been for highest food conversion, 2nd highest growth rate and best consignment. Browser sired the highest selling bucks in 2016 at both AKGA and BPI sales.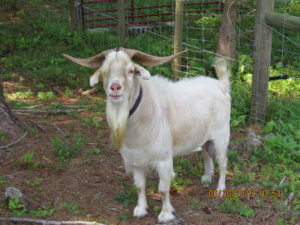 PATERNAL GREAT GRANDSIRE (1)
MGR TITAN'S HAMMER – Hammer was 2004 ADG buck test champion and the long-time national performance test record holder for ADG from 2004 to 2014 with an on-test ADG of .63lbs per day. His offspring are known for being very parasite resistant with fast growth.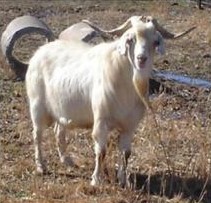 PATERNAL GREAT GRANDSIRE (2)
RAK AUSTIN'S BOY – Austin's Boy was built like a tank, and passed that outstanding body structure and conformation down to his offspring as well. He was Grandsire to multiple Top 10 bucks in the Maryland Buck Test.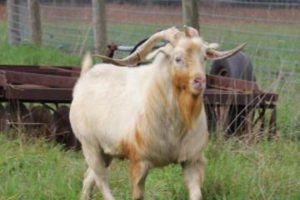 TTP REZ'S JOLT – Owner Matt Cantrell of Hidden Springs Farm says, "Jolt is a powerful young New Zealand buck who is the product of MRG TERMINATORS REZ (2015 WV buck test contender) over LBG JOULES 604 (GOLDEN BOY/GOLDMINE'S HERITAGE descent), two very well-respected breeding Kikos. Jolt is very much a "hands off" buck, keeping good body condition on forage only without deworming. Jolt produces nice thick kids who grow out well and have color to boot."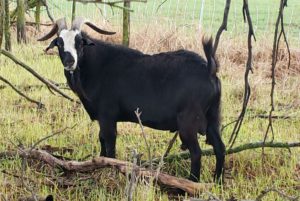 MRG TERMINATORS REZ – Completed the 2015 WV Buck Test with a very impressive ADG of .59 per day and weighed 169.5 pounds at one year.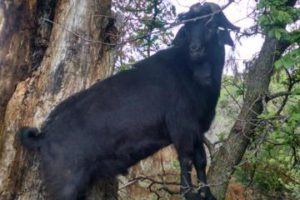 MATERNAL 2ND GREAT GRANDSIRE (1)
GFI HEMI – A solid black Kiko Buck who is an own Son of Terminator's XX and Tay 23, a daughter of Tay Herk and granddaughter of JTV Hercules and Tasman Zorro. HEMI had a 90 day ADG of .62 lbs per day. This buck has it all and passes it onto his off-spring. Like him, his kids are tough as nails, grow fast, have excellent confirmation, and are very colorful.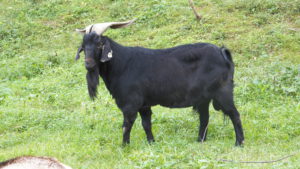 MATERNAL 2ND GREAT GRANDSIRE (2)
COO IRON HORSE – Iron Horse is a buck with incredible genetic quality. Bucklings out of Iron Horse are proven sires in the Kiko breed. Iron Horse passes great size, and color. He sired multiple winners over the years at the Oklahoma Buck Forage Tests. He is out of the best New Zealand bloodlines. Iron Horse weighed 320 pounds in his prime!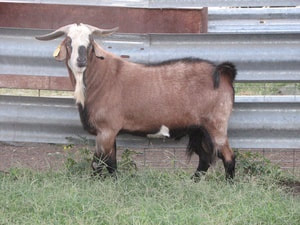 MATERNAL 3RD GREAT GRANDSIRE (+more)
ELH HEMP'S GOLDEN BOY – Very well known large framed buck that developed a reputation within the industry for producing large, meaty #1 grade offspring. Golden Boy had outstanding muscling and loin, and passed this trait down beautifully. Golden Boy shows up many times in Major Deal's pedigree.