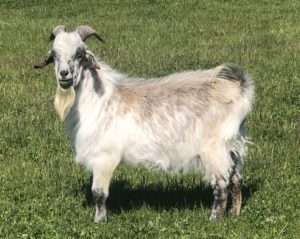 LIT FORT'S BLUE DEFENDER, or simply "Defender" as we call him, is outstanding in every way. He's an AKGA registered New Zealand Purebred with outstanding body conformation and proven performance.
Defender was the #1 ADG buck and #1 FEC buck in our 2021 on-farm performance testing program, finishing the test with an amazing 0.9 lb ADG and 0 fecal egg count via the industry standard McMaster testing technique. His Average Daily Gain rate was nearly 20% higher than the second place finisher!
At just 7 months old, and due to the impressive test results, we called on him to cover 14 Does in the fall of his birth year (we wanted to get some kids from him as soon as possible). That's a lot of pressure for a very young buckling, yet he successfully covered all of the Does with zero misses.
We were very pleased to see he continued to add weight and maintain excellent condition throughout the duration of his first breeding window, even with the intense pressure.
…And Defender has a pedigree that is packed with performance tested Kiko Royalty from top to bottom.
SLS FORT – 2016 EOSC Buck Test #1 FEC and #3 ADG. From his first kid crop, he sired the # 2 FEC buck at the 2018 EOSC Buck Test. In 2019 he sired the #2 and #7 FEC bucks at the EOSC Buck Test as well as the #16 ADG buck. He also sired the #10 FEC/PCV buck on the feed portion of the 2019 Langston Buck Test.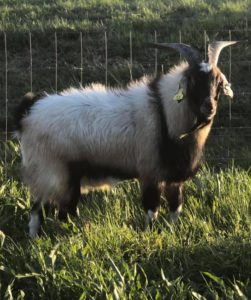 MRG THRILLER – Sired the #1 FEC buck & #3 ADG buck on the 2016 EOSC Buck Test. He has also produced multiple high selling goats at sales throughout the country. MRG Thriller is the twin brother of the well known MRG Outlaw who has set records by producing offspring that won the EOSC buck test 3 consecutive years. Their paternal grandsire, Warsaw also won the parasite portion of the Oklahoma Buck Test.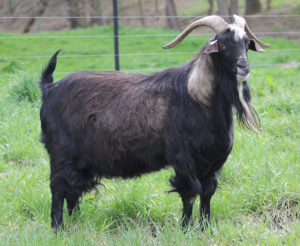 PATERNAL 2ND GREAT GRANDSIRE
COO IRON HORSE – Iron Horse is a buck with incredible genetic quality. Bucklings out of Iron Horse are proven sires in the Kiko breed. Iron Horse passes great size, and color. He sired multiple winners over the years at the Oklahoma Buck Forage Tests. He is out of the best New Zealand bloodlines. Iron Horse weighed 320 pounds in his prime!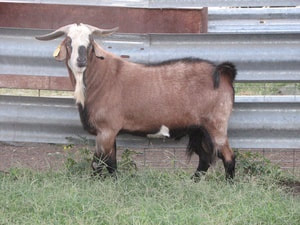 MATERNAL GREAT GRANDSIRE (1)
PJM COPYRIGHT TOUGH FO589 – A direct son of the mighty SKY 213 BLUE'S COPYRIGHT, "Tough" was the 2013 High Pointed AKGA "Performance Test Program" buck. He finished 5th place FEC buck on the extremely challenging 2013 Maryland Buck Test and was one of only 6 bucks to achieve the "Gold" FEC standard! In a very limited amount of offspring tested, he has sired a 6th place FEC buck in 2017 EOSC, and the heaviest off-test weight and 11th place ADG in 2018 WV Test. Direct daughters of Tough have produced the 2017 and 2018 Low Fecal Egg Count Grand Champion in the EOSC buck test, and the 5th overall (4th ADG) buck in the 2020 WV Test.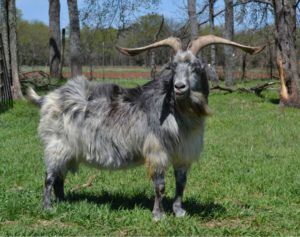 MATERNAL GREAT GRANDSIRE (2)
BWP SPECKLES PATCHES FO887 – 2014 MD 8TH overall test buck. Has been used extensively in Wes Pinneo's highly regarded breeding program.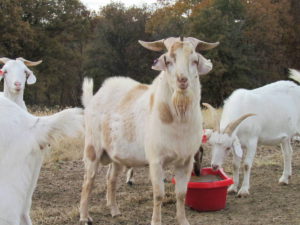 MATERNAL 2ND GREAT GRANDSIRE (1)
SKY 213 BLUE'S COPYRIGHT – One of the all-time best bucks in the breed. True Kiko Royalty. Copyright sired over 25 tested bucks at 3 different tests over multiple years with many winners, record breakers and top-10 finishers along the way.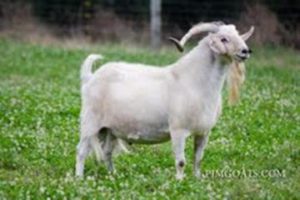 MATERNAL 2ND GREAT GRANDSIRE (2)
WSU GOLIATH'S KEEPER – Goliath's Keeper is the best known son of the great Goliath. Goliath and Goliath's Keeper are among the top bucks in the breed. Goliath was the largest of the original imported bucks. Keeper embodied the phenotype that Kiko breeders really seek to establish in their herd. Keeper was known as an outstanding Doe producer as well.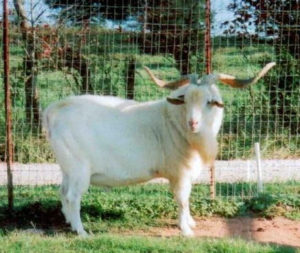 MATERNAL 2ND GREAT GRANDSIRE (3)
GFI ROLLING MEADOWS 81 (Speckles) – Heavily tested sire who produced many excellent
performance test bucks in MD, IL, & OK. Sire of highest selling doelings multiple years in a row at
AKGA & NKR sales. Sire of highest selling Buck in 2022 Heartland Kiko Sale. Notable sons include "Zipper", "BWP Zipper's Nitro", "Ace" and "Patches"… all greats in their own right.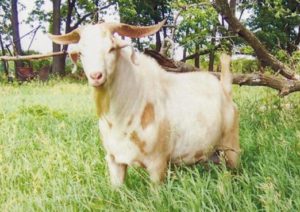 MATERNAL 2ND GREAT GRANDSIRE (4)
CGI SHOGUN – Extremely hardy, producing fast growing and colorful kids. He is out of a Top
Notch Champagne X Pango Son & a Nick/Gloria daughter. His offspring were top performers in
the 2013 MD test and numerous other tests to follow.